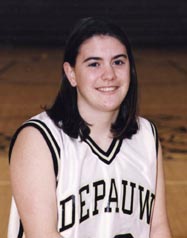 13 JAMIE SELIP
Guard 5-4 Junior
Indian Head Park, Illinois (Lyons Township)
An English literature major with plans to teach English ... Named to Dean's List ... A GTE Academic All-America nominee.
1998-99
Scored seven points, grabbed four rebounds and dished out four assists in second-round win over Austin ... Ranks seventh in DePauw history with 204 career assists ... Second on team with 83 assists this season ... Has a 1.6:1 assist-to-turnover ratio for the season and a 1.8:1 ratio in conference games ... Posted a 3.8:1 ratio over final six regular season games ... Recorded at least one assist in each of the last 23 games ... Career-high 17 points in regular season finale against Millsaps (2/27/99) on 8-of-11 shooting from the floor ... Grabbed a season-high nine rebounds against Hendrix (2/7/99) ... Over final three games hit 11 of 17 field goal tries ... Career-high six assists in home win over Trinity (1/15/99) ... Dished out five or more assists on six occasions ... Averaged 6.2 points per game in conference games as opposed to 0.7 points per non-conference contest.
1997-98
Hit five of six free throws in NCAA second round game (3/7/98) ... Played and started all 28 games oint guard ... Equaled career high with 11 points against Kalamazoo (12/13/97) ... Hit seven of eight free throws in win over Graceland (1/2/98) ... Equaled career best with five assists against Rose-Hulman (1/17/98) and MacMurray (12/6/97) ... Ranked seventh in ICAC play with 2.6 assists per conference game
1996-97
Selected as team's most improved player ... Was the starting point guard over the final 15 games ... Played in all but first contest ... High point total was 11 against Manchester (2/18/97) when she also had 10 rebounds for a double-double ... Dished out five assists in win at Franklin (1/11/97) ... Recorded five steals at Rose-Hulman (1/18/97) ... Hauled down seven rebounds in ICAC tournament title game against Hanover (3/1/97) ... Second on team with 55 assists and third with 21 steals.
HIGH SCHOOL
Member of National Honor Society ... Honor Roll ... French Honor Society ... Mu Alpha Theta ... Earned three letters each in soccer and basketball ... Named most improved player in both basketball and soccer ... All-conference in soccer ... Most valuable player in soccer ... Recipient of the Francis Lange Memorial Award.
SELIP'S CAREER STATS
Season
GP-GS
MIN
FG
FGA
Pct
3FG
3FGA
Pct
FT
FTA
Pct
Reb
Avg
PF-D
A
TO
BLK
ST
PTS
Avg
HG
1996-97
25-15
499
32
99
.323
3
7
.429
18
32
.563
89
3.6
33-0
55
43
2
21
85
3.4
11
1997-98
28-28
620
37
101
.366
2
8
.250
41
45
.911
71
2.5
43-1
70
63
1
21
117
4.2
11
1998-99
26-19
542
44
107
.411
2
7
.286
33
38
.868
75
2.9
25-0
83
53
1
18
123
4.7
17
Totals
79-62
1661
113
307
.368
7
22
.318
92
115
.800
235
3.0
101-1
208
159
4
60
325
4.1
17