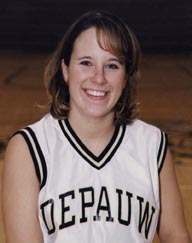 20 PAULA BOBACK
Guard 5-6 Senior
Crystal Lake, Illinois (Barrington)
A GTE Academic All-America nominee ... An elementary education major with plans to go into teaching and coaching ... Named to Dean's List ... Member of Kappa Delta Pi education honorary of which she is on the executive board ... Member of the Panhellenic executive board ... Served as a student assistant coach for the Tiger football team during 1997 season ... Also played two years of volleyball for DePauw.
1998-99
Missed seven games in December and January due to injury ... In SCAC games posted a team-high 2:1 assist-to-turnover ratio ... Scored six points and grabbed four rebounds in NCAA second-round win over Austin ... Scored a season-high eight points on four occasions including in each of the first three games ... Started first seven games prior to injury ... Totaled 10 assists in 38 minutes over last three regular season games ... Career-high five steals at Millikin (11/29/98) ... Career-high eight assists against Berea (12/11/98).
1997-98
Dished out two assists and recorded two steals in NCAA second-round game (3/8/98) ... Played in all but one game and came off the bench in each ... High of 11 points in home win against Hanover (2/3/98). 1996-97 Missed final seven games of season with a knee injury ... Pulled down a career-high eight rebounds in a win over Central (12/6/96) ... Had career high in points with 18 in a win over Taylor (12/10/96) ... Had back-to-back 14-point, five-rebound performances against Otterbein (12/14) and Webster (12/30/96), also had a career-high seven assists in Otterbein game.
1995-96
Played in regular season finale after recovering from a knee injury in the seventh game of the season ... Scored in each of first five games, while averaging nearly 17 minutes ... Dished out five assists against Marian (11/21/95) and Earlham (11/25/95).
HIGH SCHOOL
Member of the National Honor Society ... An all-academic varsity athlete ... Earned three letters in basketball, two each in volleyball and soccer and one in track and field ... A three-time MVP of the volleyball team ... Named the most improved player of the basketball team twice ... An all-conference and all-area soccer player.
BOBACK'S CAREER STATS
Season
GP-GS
MIN
FG
FGA
Pct
3FG
3FGA
Pct
FT
FTA
Pct
Reb
Avg
PF-D
A
TO
BLK
ST
PTS
Avg
HG
1995-96
8-0
95
7
16
.438
0
0
.000
4
4
1.000
11
1.4
11-0
21
16
0
6
18
2.3
4
1996-97
15-7
263
31
59
.525
0
0
.000
29
43
.674
523
3.5
21-0
36
22
1
17
91
6.1
18
1997-98
27-0
383
25
61
.410
0
1
.000
33
59
.559
51
1.9
25-0
40
49
1
22
83
3.1
11
1998-99
20-7
312
32
72
.444
0
0
.000
14
20
.700
50
2.5
22-0
41
29
2
17
78
3.9
8
Totals
70-14
1053
95
208
.457
0
1
.000
80
126
.635
164
2.3
79-0
138
116
4
62
270
3.9
18