Hanover (Absolutely) Evens Score with DPU Cagers
Panthers steal win from Tigers 57-56, the identical score of the first
meeting, which DePauw won.
---
GAME STATISTICS

Story and photos by Mike Lillich, University Editor

GREENCASTLE, IND. - The visiting Hanover Panthers scored the final six points in the last minute of the game and sneaked out of Neal Fieldhouse with a win, spoiling DePauw's Senior Night.
The DePauw faithful were feeling pretty confident when Hanover's Andy Goshorn missed a wide-open lay-up with a little over one minute remaining and DePauw with a five-point lead, 56-51. But Panther guard Jon Miller hit his only three-pointer (1-6) of the game with 40 seconds to go, making the score 56-54.
In one of two crucial plays of the game, DePauw turned the ball over after the in-bounds play, and Hanover called time out with 10 seconds left.
Then came the second play on which the outcome of this game turned. The Panthers' Kyle Brewer made a six-foot jumper in the lane while falling to the floor, was fouled and sank the free throw for the 57-56 final.
DePauw got the ball back with a chance and six seconds to go. The Tigers moved it quickly upcourt, but Craig Stewart's (Jr., New Albany, Ind./Floyd Central) long three-pointer banged off the rim at the buzzer, and the Tigers had to console themselves with what might have been.
Before the game, the eight DePauw seniors and their parents were introduced to a nice crowd.
It looked as if one of those honored, little-used Matt Broughton (Pendleton, Ind./Pendleton Heights) was going to be one of the local heroes with his three-of-six shooting from three-point range, career-high ll points and three rebounds. Until that last minute ...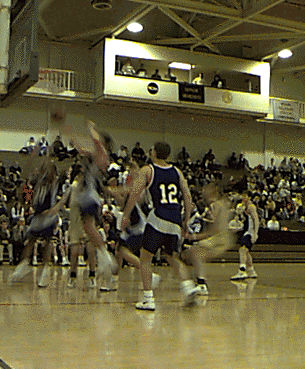 Brad Stevens (So., Zionsville, Ind./Zionsville) led DePauw with 12 points. Ryan Hooker (Sr., Rensselaer, Ind./Rensselaer Central) had 10 points and a game-leading eight rebounds.
Hanover's Brewer took game scoring honors with 19 points. Goshorn had 11. The game stats show two teams, each of which won by identical scores on each other's home courts, are about as evenly matched as you can get. On this night, Hanover shot 46 percent, DePauw 43 percent; Hanover had 28 rebounds, DePauw, 26; Hanover was 11-14 from the free-throw line, DePauw, 12-18; the two teams each had 12 turnovers.
The loss brought DePauw to 12-12 overall and 5-7 in the conference. Hanover improved to 14-8 and 6-5 in the conference.
The Tigers take to the road for the Indiana Collegiate Athletic Conference tournament on Thursday. DePauw will play at the winner of Monday night's Hanover at Manchester game. The semifinals and championship will be played at Rose-Hulman on Friday and Saturday.