DePauw Women's Basketball Homepage
Tigers Knock off Crusaders 67-54; improve to 2-1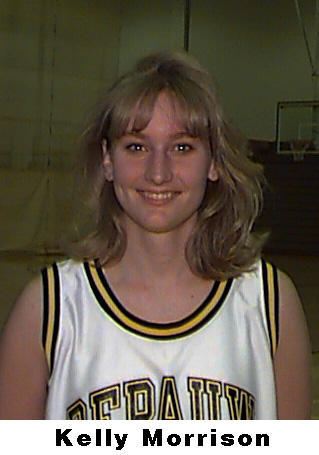 GREENCASTLE, IND.- An 8-0 run over a five-minute stretch of the second half took the Tigers from a 51-50 lead to a 59-50 advantage and propelled them to a 67-54 win over one of Division III's perennial powers - Capital University.
The visitors led by as many as nine at 13-4 just five minutes into the contest, but the Tigers clawed back to finally tie the game at 19-19 with 8:25 remaining in the first half. The game was tied four times in the half before the Tigers pulled away for a 35-32 lead at the break
The Tigers built the margin to eight at 49-41 with 12 minutes left on Erin Wolfe's layup, but the Crusaders eventually closed the gap to 51-50 on Jessica Fulton's layup at the 9:41 mark. Susan Bender buried a jumper from in front of her team's bench with 7:58 left to make it 53-50 and it stayed that way for nearly two minutes. Kelly Bailey's jumper followed by Kelly Morrison's basket and another two from Bailey made it 59-50 Tigers with 4:50 left.
Capital got no closer than eight as they missed a pair of front ends of one-and-one free throw attempts before hitting a third. The Tigers, meanwhile hit their last six from the charity stripe over the final 1:31.

"This was a great win for our program even though Capital is a young team this season," DePauw head coach Kris Huffman said. "We made a lot of mistakes, but didn't let them bother us."
Kelly Morrison led the Tigers with 14 points, while Susan Bender and Erin Wolfe each scored 10. Kelly Bailey, in her first collegiate start, scored eight points and grabbed a game-high 13 rebounds. Amy Strine led Capital with 17 points with Fulton chipping in 13. Bender added a game-high six assists.
"I thought Kelly Bailey stepped up and did a nice job for us in her first start," Huffman added. "Kirstin Rhinehart also did a good job off the bench."
The Tigers improved to 2-1, while Capital fell to 3-1. The Tigers travel to Marian on Tuesday evening for a 7 p.m. game.
TIGER NOTES: The loss for Capital was just their 20th against 199 wins since the beginning of the 1990-91 season, The Crusaders were 29-4 last year and advanced to the national semifinals for the fourth time in five years (championships in 1994 and 1995) ... DePauw coach Kris Huffman tied the DePauw record for wins in a career with her 65th victory against just 38 losses. She needs just one more win to top the mark of Lori Herrmann (1987-92) ... The win was the 37th in the last 44 games for the Tigers and their 23 in the last 26 at the Neal Fieldhouse ... Kirstin Rhinehart has nailed all 13 of her free throws this season and has made 22 straight dating back to last year.
OFFICIAL BASKETBALL BOX SCORE -- G A M E   T O T A L S                          
Capital University vs DePauw University                                         
11/29    1 p.m.       at  Greencastle, Indiana                                  
--------------------------------------------------------------------------------
VISITORS: Capital University (3-1)                                              
                          TOT-FG  3-PT         REBOUNDS                         
No.     N A M E           FG FGA FG FGA FT FTA OF DE TOT PF  TP   A TO BLK S MIN
22 STRINE, Amy          f  7 20   3 11   0  0   5  2  7   3  17   4  4  1  0  34
33 FULTON, Jessica      f  5  7   0  0   3  7   5  1  6   1  13   1  7  1  3  32
40 MEYER, Kendra        c  4 10   0  0   0  0   2  3  5   3   8   1  1  0  0  24
10 WALKER, Jill         g  1  4   0  0   2  2   1  3  4   3   4   2  3  0  2  36
20 HAYES, Joey          g  1  7   1  6   0  0   0  2  2   2   3   1  0  0  0  15
15 BABB, Aimee             1  5   0  2   2  3   1  5  6   1   4   2  3  0  2  20
34 RIEGLE, Renee           0  1   0  0   2  5   1  2  3   2   2   1  0  0  0  15
42 RHODES, Kristy          0  0   0  0   0  0   0  0  0   0   0   0  0  1  0   1
44 SNYDER, Jennifer        0  0   0  0   0  0   1  0  1   0   0   0  0  0  0   2
45 WRIGHT, Stacey          0  1   0  0   0  0   0  1  1   1   0   1  1  0  0   8
53 RUGG, Marissa           1  4   1  3   0  0   0  0  0   1   3   2  2  0  0  12
TEAM REBOUNDS................................   0  0  0                         
TOTALS                    20 59   5 22   9 17  16 19 35  17  54  15 21  3  7 199
                                                                                
TOTAL FG% 1st Half: 12-28  .429   2nd Half:  8-31  .258   Game:  .339   DEADBALL
3-Pt. FG% 1st Half:  3-10  .300   2nd Half:  2-12  .167   Game:  .227   REBOUNDS
F Throw % 1st Half:  5- 7  .714   2nd Half:  4-10  .400   Game:  .529      1    
                                                                                
--------------------------------------------------------------------------------
HOME TEAM: DePauw University (2-1)                                              
                          TOT-FG  3-PT         REBOUNDS                         
No.     N A M E           FG FGA FG FGA FT FTA OF DE TOT PF  TP   A TO BLK S MIN
32 HALL, Ann            f  2  6   1  2   0  0   0  1  1   2   5   1  1  0  0  15
34 HASBROOK, Amy        f  0  2   0  0   2  2   4  3  7   4   2   2  6  1  2  22
44 BAILEY, Kelly        c  4  7   0  0   0  2   4  9 13   0   8   1  1  0  1  28
13 SELIP, Jamie         g  1  2   0  0   2  2   1  1  2   0   4   1  4  0  3  22
23 BENDER, Susan        g  5 16   0  0   0  0   2  3  5   3  10   6  4  0  0  32
10 RHINEHART, Kristin      1  4   0  1   4  4   0  1  1   1   6   3  2  0  0  18
22 WOLFE, Erin             3  5   0  2   4  4   0  2  2   0  10   1  1  0  0  12
24 MORRISON, Kelly         5 13   1  4   3  3   0  2  2   2  14   3  0  0  2  19
25 MATHIS, Jana            1  2   0  0   0  0   2  3  5   2   2   0  1  0  0   9
35 HASKETT, Dona           2  2   0  0   0  0   1  0  1   2   4   0  2  0  0  13
40 WILLIAMS, Amie          1  1   0  0   0  0   0  2  2   0   2   0  0  0  0   8
TEAM REBOUNDS................................   1  1  2              1          
TOTALS                    25 60   2  9  15 17  15 28 43  16  67  18 23  1  8 198
                                                                                
TOTAL FG% 1st Half: 14-33  .424   2nd Half: 11-27  .407   Game:  .417   DEADBALL
3-Pt. FG% 1st Half:  2- 6  .333   2nd Half:  0- 3  .000   Game:  .222   REBOUNDS
F Throw % 1st Half:  5- 5 1.000   2nd Half: 10-12  .833   Game:  .882      3, 2 
                                                                                
--------------------------------------------------------------------------------
OFFICIALS:                                                                      
TECHNICAL FOULS:                                                                
Capital University  -  none                                                     
DePauw University   -  none                                                     
ATTENDANCE:  200                                                                
SCORE BY PERIODS:        1st  2nd  OT1  OT2  OT3  OT4   TOTAL                   
Capital University        32   22    0    0    0    0      54                   
DePauw University         35   32    0    0    0    0      67