Hanover Tips DePauw 58-56 in Tough Tourney Final
DePauw trails by nine at the half, fights back in second frame to take the lead but falls one bucket short in the end.


---
Story and photos by Mike Lillich, University Editor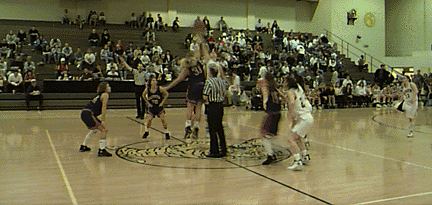 GREENCASTLE, IND. - This wasn't the way the DePauw women's basketball team's record-breaking season was supposed to end.
To the credit of Coach Kris Huffman's young charges, they pulled themselves out of the hole they dug for themselves in the first half by playing a tenacious, clawing, pressing defense. In the end, though, they didn't have enough left to get over the hump.
The Panthers came out in the first half denying the Tigers the outside shot. DePauw missed numerous short-range shots on its way to a cold 25 percent shooting percentage and a 32-23 halftime deficit. DePauw played matador defense in the first half. The only way back into the game for the Tigers was to shut down the Panthers' offense and keep them off the boards. Which is exactly what DePauw did in the second half.
The Tigers held the visitors to 28 percent shooting and outrebounded them 24-12.
DePauw also went to a high post offense and sent Ann Hall (Fr., Bourbon, Ind./Triton) and Susan Bender (So., Indianapolis/Roncalli) to the hoop. With 10:13 remaining, the Hanover defense loosened up a bit, Hall knocked down a three-pointer to knot the score at 43-43.
Point guard Jamie Selip (Fr., Indian Park, Ill./Lyons Township) then hit a jumper for what turned out to be the first Tiger lead (45-43) since the opening minutes of the contest. It was to be DePauw's last lead. Alas.
A lesser team than Hanover would have packed its tent and gone home at this point. DePauw's defense was stifling. The crowd was loud and emotional. Big Mo was clearly on the home team's side.
But Hanover's excellent point guard Amy Macy made a big three to take back the lead at 47-45. She would also go on to make two big assists (of her 10 on the day) down the stretch.
Panther and game leading scorer Alicia Smith made a three-pointer with 5:18 remaining to take the score to 52-47 and hit two free throws with 12 seconds remaining to seal the victory.
DePauw had a chance, down by two with just over a minute to go but made a crucial turnover.
Hall and Bender made the all-tournament team but from the looks on their faces would have traded their honors in a New York minute for 60 more seconds on the gameclock.
Also named to the all-tourney team were Hanover's Smith and Liz O'Brien. Macy was the most valuable player.
DePauw completed its season 22-4, a record number of victories ... but probably no NCAA Division III Tournament bid. (Hanover, as conference tournament champions, earns th automatic bid).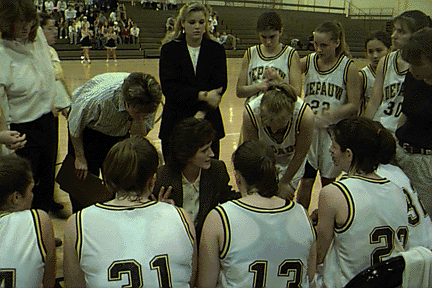 It's hard to get beyond the clichés. The DePauw team was young - only two seniors. It lost two key players - sophomores Paula Boback and Jana Mathis - to injury and still came within one basket of the NCAA tournament.
Coach Kris Huffman deserves a gym-load of credit. She can not only recruit players, she can also quietly motivate and get them to accept their roles, e.g., the team's top scorer, Kelly Morrison, comes off the bench. Assistant coach Mary Smith provides great support for Huffman, individual players and in her efforts to get the community involved in DePauw women's basketball.
And, finally, hats off to this team. You just had to like this group. You had to like the individual players, too, and how they conducted themselves on the court and related to each other.
The team's support grew as the season went on, as people started saying to their friends, "You've got to see the DePauw women's basketball team!"
The students started turning out in larger numbers, and there were more and more community people in attendance as the season went on. Everybody loves a winner, but there was something else going on here.
There was an NCAA playoff atmosphere at Gaumey Neal Fieldhouse this weekend. While DePauw has had good women's basketball teams and good players before, one senses that women's basketball has truly arrived here in Greencastle and environs.
Next year ... watch out, world.