DePauw Defense Buries Kalamazoo 71-50 in Little Giant-Tiger Classic
---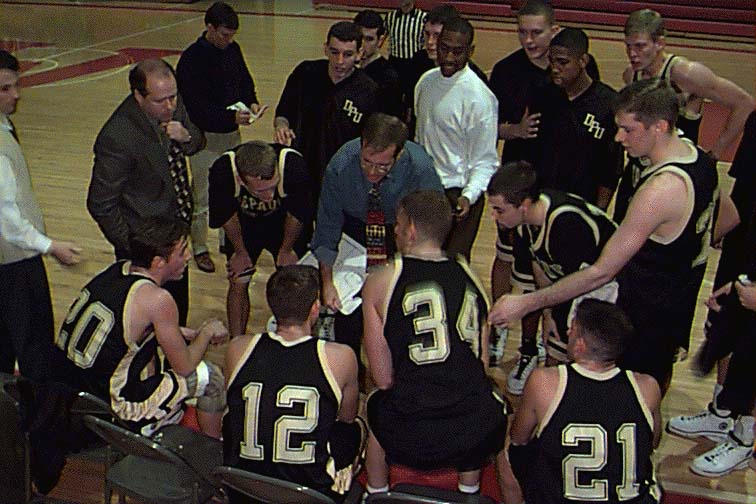 CRAWFORDSVILLE, IND. ­ The game program for the Second Annual Little Giant - Tiger Classic lauded the Kalamazoo College team's tough defense. But when the final buzzer sounded, it was the Tigers' tenacious defensive effort that was the difference in the 71-50 final in which every player on the DePauw roster saw action.

DePauw jumped out to a 17-2 lead, despite energetic defense on the part of the Hornets. Kalamazoo battled back to within four points with 4:17 to go in the first half as DePauw had difficulty hanging onto the ball. The half ended with DePauw on top 38-27.

The Tiger defense put the game away by holding Kalamazoo without a point for the first 8:46 of the second half. At that point, with the score 51-27, DePauw could have phoned it in.

"I couldn't have been more pleased with the discipline we displayed defensively," Coach Bill Fenlon said. "That is something we've been focusing on this year."

Senior all-America candidate Ryan Hooker led the Tigers with 17 points. Senior Academic All-America candidates Matt Gorrell and Jason Kreag added nine and eight points, respectively.

Contributing on the defensive end was Craig Stewart with four steals, as DePauw held the Hornets to 36 percent shooting (13-36) and Kalamazoo turned the ball over 22 times. But it finally came down to a team defensive effort, as even Jack Kidd, a 6-6 freshman from Winnetka, Ill., who logged only five minutes, kept the Kalamazoo big men off the boards and away from the hoop.

Kalamazoo senior guard Brian Blattert was the Hornets' top scorer with 10.

DePauw raised its record to 4-5; Kalamazoo fell to 3-4.

Wabash went on a 30-8 run over the last 8:37 of the first half and defeated Carnegie Mellon 75-58 in the second contest at Crawfordsville. Wabash, now 7-1, was led by Chad Tabor with 15. Carnegie Mellon fell to 3-5 and was paced by Rich Bodnar with 13. On Sunday (Dec. 22) DePauw hosts Carnegie Mellon at 4 p.m., and Wabash plays Kalamazoo at 2 p.m. in Greencastle.