DePauw Knocks Out Manchester
The 48-45 home victory was a gritty, physical, take-no-prisoners
affair, but in the end Jason Kreag was the difference.
---
by Mike Lillich, University Editor
GREENCASTLE, IND. - In a rivalry that has taken on Wabash-like intensity, DePauw jumped out to a big first-half lead and held on to avenge a road loss to the Spartans.
In the first five minutes of the game, DePauw raced out to an 11-0 lead and held as much as a 27-8 advantage. The Tigers played demon defense and led at halftime 31-17. Senior Jason Kreag (Granger, Ind./Penn) had 14 points on five-of-nine shooting, including four of six from three-point range.
Manchester came out of the locker room for the second half on a mission. They dominated the Tigers and tied the game at 35-35 at the 12:09 mark. But the Tigers would not go gently into the Greencastle Saturday night.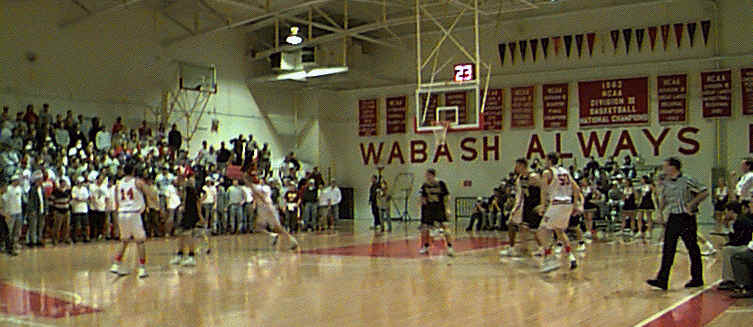 The game literally came down to who executed best in the final minute. Junior Craig Stewart (New Albany, Ind./Floyd Central) canned a crucial three to tie the score at 45-45 with 53 seconds remaining.
Then the Act V, scene v., drama began in earnest. Kreag made one of two free throws with 23 seconds remaining. He immediately atoned for the errant toss by making a steal.
The Spartans' Burt Paddock fouled senior Ryan Miller (La Porte, Ind./LaPorte) with nine ticks remaining. Miller missed the front end, but Ryan Hooker (Sr., Rensselaer, Ind./Rensselaer Central) tipped the ball back to a teammate and Paddock fouled Kreag, who calmly sank two and brought the curtain down on this revenge play.
Kreag finished the day with a season-high 20 points. He also had two assists and four steals. The Phi Beta Kappa economics major is running for student trustee, so maybe this game was part of his campaign.
Hooker, the Tigers' usual go-to guy, had only five points. Credit that to the Manchester defense. But credit Hooker, like all great players, with figuring out a way to help the team even when he's not scoring. He did it this day with 12 rebounds. Sophomore Brad Stevens (Zionsville, Ind./Zionsville) had nine points.
DePauw had no answer for Spartan center Chad Berry who finished with 19 points and 10 boards. They did hold Division III's leading field goal shooter to just eight-of-18 shooting. Burt Paddock added 12 but was just one of 10 from three-point range.
DePauw raised its record to 12-10 overall and 5-5 in the conference. Manchester fell to 13-9 and is also 5-5 in the ICAC. Franklin also is tied for third in the ICAC with a 5-5 mark after its 93-69 win over Anderson.
DePauw finishes up the regular season with a road game at Franklin on Wednesday (Feb. 19) and then a home contest versus Hanover on Saturday (Feb. 22) night.
The ICAC Tournament begins Feb. 27.