Tigers Fall to Hot-Shooting Spartans and Fall out of First Place in ICAC Race
---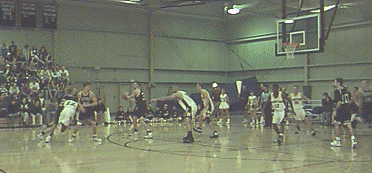 NORTH MANCHESTER, IND.- The Tigers held the lead for most of the first half , but in the end it was a Manchester team with many more weapons that outlasted the Tigers 70-60. The loss dropped the Tigers to 9-6 overall and 2-1 in the Indiana Collegiate Athletic Conference and snapped their nine-game win streak. Manchester took over sole possession of first place in the ICAC and improved to 10-4 overall and 3-0 in the ICAC.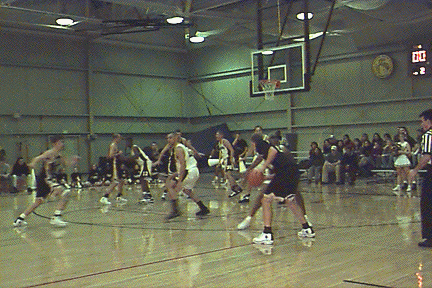 DePauw trailed 5-4 at the 13:49 mark, but a pair of Rick Brown layups off of Brad Stevens' assists, followed by a three-point play and layup by Stevens gave the Tigers an 11-5 lead with 11:25 left. Stevens capped off an incredible stretch with a pair of three-point field goals for 11 straight points in a span of 3:12 to give the Old Gold a 19-10 lead with 8:13 remaining.
Manchester got hot, though, as Chanse Young and Dwayne Ford nailed treys in the next 1:20 to cut the lead to three. The Tigers moved the lead to 25-18 with 2:16 left, but the Spartans again put together a run by scoring eight straight to tale a 26-25 lead. Matt Bowers scored on a layup at the horn to put the Old Gold back on top, 27-26.
The teams exchanged buckets over the first four minutes of the second half before Manchester gained the lead for good on Chad Berry's jumper at the 15:51 mark. Manchester quickly turned a 40-38 lead into a 51-40 advantage as Berry scored the first five of the run and Chanse Young and Burt Paddock each nailed threes. A 9-2 Tiger run got them back to within four at 53-49 with 7:56 left, but that's as close as they'd get the rest of the way.
Manchester shot a blistering 73 percent from the floor in the second half and finished at 55 percent for the game, while the Tigers shot just 37 percent for the game.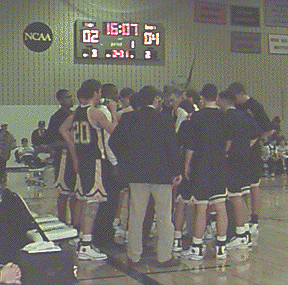 Stevens scored a season-high 22 points in 25 minutes and Ryan Hooker added 12 for the Tigers. Ford led four Spartan double-figure scorers with 16. Berry added 15, followed by Paddock with 14 and Young with 13.
DePauw hosts Wabash on Wednesday at 7:30 p.m. Manchester returns to conference play on Wednesday at Franklin.